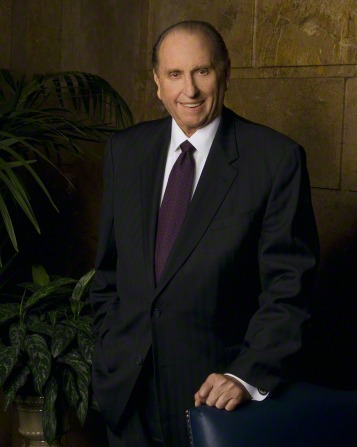 With the world in commotion on almost every topic under the sun, I'm so grateful to have a living prophet on earth to lead and guide us on the path of righteousness following the Savior.
When
The Family: A Proclamation to the World
was read in 1995 at the Relief Society General Broadcast, I wrote my feelings of gratitude in the form of a hymn text.
How Blessed We Are

By Rozann W. Thoelke




How blessed we are to have a guide

A prophet of the Lord

To lead us in these latter-days

Of famine, drought, and sword.




With strident voices on all sides

He speaks a calming word

To cheer us and encourage us;

The Lord, our prayers has heard.




He calls to us "Repent from sin."

And asks us to do more

To live the gospel in our homes

Rich blessings are in store.




We pray for him to lead us in

The way of righteousness.

He has not faltered, nor yet will

Let's follow and be blessed.
These words fit the tune of God Moves in a Mysterious Way, Hymn # 285.
Twenty years later my gratitude has grown a hundred fold.